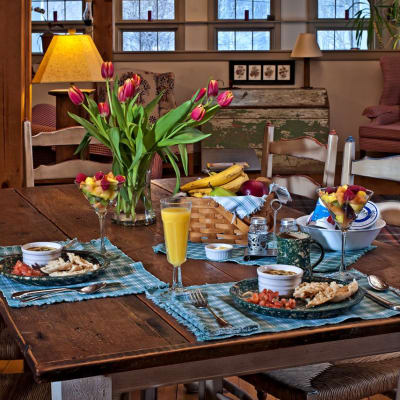 Breakfast
All guests of the Inn at Silver Maple Farm may join us for a free breakfast, which is offered daily. Breakfast is served in the Dining Room and Library from 8:00 and 9:30, affording guests plenty of space and pleasant views of the grounds. The breakfast offerings typically include fresh fruit, granola cereal, English muffins, toast and jam, yogurt, hard-boiled eggs, muffins, raw almonds or walnuts, whole fruits, freshly ground coffee, tea, and fruit juices. The second course is always a surprise, but some house favorites are blueberry buttermilk pancakes, broccoli and cheddar, and mushroom and Swiss cheese quiches, and our signature Silver Maple Eggs frittata to name a few. In the afternoon, tea and snacks are available.
All breakfast items are vegetarian and we do not offer any meats. **Please note that while we offer a variety of foods to satisfy almost any dietary restrictions, we do not have the ability or capacity to prepare any special or made-to-order meals.
Water
The water at the Inn at Silver Maple Farm is supplied by a drilled well on the property. It is not treated with chemicals or ultraviolet light, and is naturally free of chlorine and fluoride. In compliance with Department of Health regulations, our water is tested every month by an independent lab. We think it's the best water around and rejoice at our good fortune. You can leave the bottled water at home and enjoy the good stuff during your stay!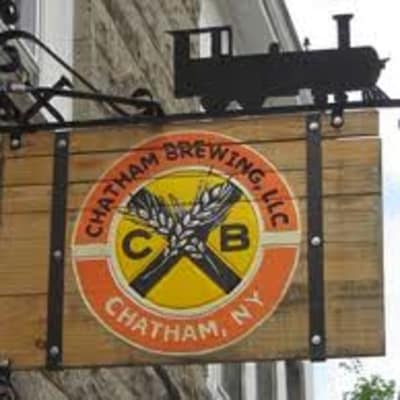 What's Happening Around Town
Being fortuitously located in the cultural hot spot where the beautiful Hudson Valley meets the foothills of the Berkshires, there are limitless local activities and attractions for you to enjoy. Click on the "Eat, See, Do" link for a guide to local restaurants, museums, gardens, historic sites, fine dining, shopping, wineries, breweries, farms, ski slopes, and more!
Did you know that Columbia and Berkshire Counties have over 100 antique shops? This region is also the home of the Shakers with historical sites at Mount Lebanon and Hancock Shaker Village. In the summertime you can pick strawberries and blueberries, hike a variety of conservation areas, and catch a concert at Tanglewood. In the fall there is apple and pumpkin picking, wine tasting, and the incredible foliage. Don't forget the Film Columbia film festival in late October! Winter is the time to enjoy local village Winter Walk festivals, shop for unique holiday gifts, and ski and snowboard the local slopes. All year round you can bike, hike, visit art galleries, delight in our many fine restaurants and shops, or enjoy music, dance and theatre at many venues.
For the most current seasonal cultural events and activities, visit our favorite websites listed below, which inform us of all the great happenings in and around town on a daily and weekly basis!
** Half Priced Same-Day Theater Tickets
The Inn at Silver Maple Farm is open by reservation or appointment only.
We kindly ask our friends, neighbors and passers-by to resist the urge to "drop in" to view the Inn or inquire about reservations and availability. We would love to assist you, but need you to call or email us with information and if you would like to visit, we would like the opportunity to schedule that for you. Thank you for your courtesy.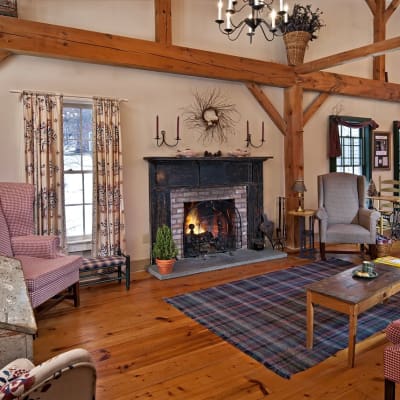 Great Room & Library
The Inn at Silver Maple Farm is the perfect country bed and breakfast where guests, friends, and family can meet, socialize, read, and relax. Built in 1997, the spacious post and beam Great Room is framed by hand-hewn beams, with a soaring pine paneled cathedral ceiling and clerestory window for just the right light anytime of day. Clean lines, space, and light invite you unwind and rejuvenate. Settle into one of the cozy wing back chairs and enjoy a cup of tea by the fireplace, or sit back on the sofa and take in the ambiance. Being fortuitously located in the sweet spot where the Hudson Valley meets the beautiful Berkshire foothills, the Inn at Silver Maple Farm bed and breakfast is the perfect choice for your weekend getaway or "stay-cation".
The Library is a more intimate space with sofas, tables and chairs, lovely pine paneled ceiling, and well stocked book cases for your perusal and enjoyment. Join us each afternoon for cookies and tea before you embark on your evening adventures.
The entire Inn has wireless Internet, and all rooms are non-smoking and pet free. You might meet the Innkeeper's little dog during your stay, but she lives in the Innkeeper's house and does not ever enter the guestrooms.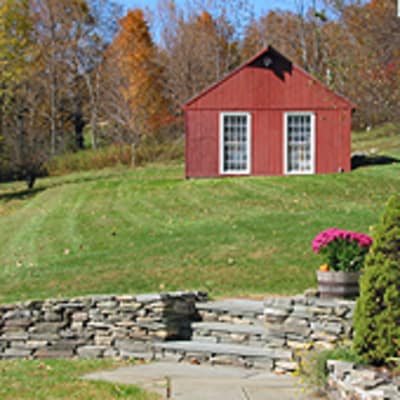 Grounds
Nestled on a hillside teeming with maple trees and evergreens and surrounded by seasonal gardens, the Inn at Silver Maple Farm bed and breakfast offers a lovely escape from the daily grind. Find peace and quiet on our little slice of heaven, and soak in the countryside from any one of our Adirondack chairs scattered throughout the grounds. We have deer that visit on the north hill, an abundance of little chipmunks, and even a few rabbits and fox. In the evenings, you can see and hear little frogs playfully chirping in the front garden. Different birds make their nests all around the property, and delight us with their evening songs. Blue Jays and Cardinals regularly flit in and out of the ornamental trees in the front yard.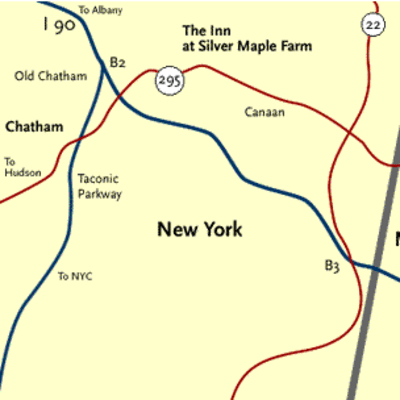 Directions
The Inn at Silver Maple Farm is a beautiful, light-filled post and beam bed and breakfast. As you drive down Route 295 you will see the white rail fence lining the long driveway. It is illuminated with tiny white lights after dark. Our address is 1871 State Route 295, East Chatham, NY 12060.
Some GPS systems refer to our road as NY-295. Please confirm before departing, as cellular signals along the Taconic and other country areas can be unreliable in some spots.
From the North and West: NYS Thruway to exit 21A to exit B2. After the toll booth take the very first exit on the right, follow signs to Route 295. Make a left onto Route 295. The Inn is 4 to 5 miles down on the left.
From the South: Taconic State Parkway to Route 295/Birge Hill Road exit. East (right) on 295 for six miles. The Inn is on the left.
- or - NYS Thruway to Exit 21A to Exit B2. After toll booth, take first right, and follow signs to Route 295. Left on 295 East 4-5 miles. The Inn is on the left.
From the East: Massachusetts Turnpike/I-90 West to Exit B3. North on Route 22 for about three miles. Left on Route 295 at the stop light. The Inn is about three and a half miles down on the right.